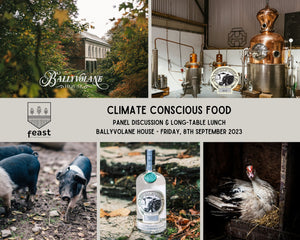 Feast - East Cork Food & Drink Festival 2023 - Climate Conscious Food - Panel Discussion & Long-Table Lunch
Regular price
€47,50
€0,00
Unit price
per
Tax included.
Shipping
calculated at checkout.
Join us on Friday, 8th September 2023 for a Climate Conscious Food panel discussion, a long-table lunch and a tour of Ballyvolane House and gardens. This event is part of the Feast - East Cork Food and Drink Festival 2023.
Kate Ryan, multi-award winning food Writer and Founder of Flavour.ie will host/referee the panel discussion. Climate Conscious Food is about rebalancing the plate with the whole spectrum of foods and encouraging all, from growers, chefs and educators, to retailers, shoppers, and how we eat at home, to consciously choose foods that are kinder to the environment, our health, animal welfare and do not add to the climactic burden of producing the food we eat. In a word: sustainable. The panel members are as follows:
Ali Honour – Executive Head Chef at The Imperial Innovative Cork-based chef, nutritionist and food activist with Chef's Manifesto, (the UN SGD's global chef advocacy hub), currently campaigning for more beans on the menu with the Beans Is How campaign (find out more here: https://beansishow.org/) as viable sources of alternative proteins that are accessible, affordable, nutritious and can help to reduce the environmental impact of producing protein-rich foods.
Dr Eoin Lettice – Lecturer and Principle Investigator at UCCs School of Biological, Earth and Environmental Sciences (BEES) Eoin's research broadly falls under the umbrella of sustainable horticulture and food production. He has particular expertise with organic production systems but also works on the incorporation of environmentally-protective crop production methods in conventional agriculture. His research focus on sustainability led to his being appointed to UCC's President's Delegation to COP26 at Glasgow in 2021. He held official Observer status to the Conference of Parties (COP) negotiations under the United Nations Framework Convention on Climate Change (UNFCCC). These negotiations led to the Glasgow Climate Pact.
Brian McCarthy – Cork Rooftop Farm Founder of Cork's pioneering urban farm and Nuffield Scholar, Brian McCarthy is an advocate for sustainable urban horticulture. As the world's population is due to hit close to 10bn by 2050, the majority of people will live in densely populated urban settings. The work of Cork Rooftop Farm shows how chemical-free produce, including eggs, can be grown close to urban centres, that there is a ready market for it, and that it is viable to do so when utilising myriad growing practices.
Darina Allen – Ballymaloe Cookery School A lifelong educator, campaigner, activist, cook and author, Darina Allen hardly needs any introduction. Food is her life's work and life's passion, and few are more intimately acquainted with the life cycle of food from soil to fork. She has been educating on the importance of ecological food systems for over 40 years, yet today her message is more relevant, and urgent, than ever.
The event will kick-off at 12noon with a Bertha's Revenge Gin cocktail and as soon as everyone has arrived, guests will be directed to the hay barn which is where the panel discussion will be held. The discussion will run for approximately 45 minutes. Afterwards, guests and the panel members will continue the chat over a long-table lunch in the dining terrace overlooking the glorious gardens. Justin Green, Ballyvolane House owner and Co-Founder of Bertha's Revenge Gin will give everyone a tour of the house and gardens after lunch.
Date: Friday, 8th September 2023
Time: 12noon to 4pm
---
Share this Product
---